Avoiding Allergies Checklist
There are steps you can take to help keep your allergies under control. Print off this handy checklist for tips on avoiding allergies this season.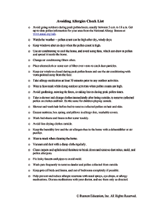 Grade Levels: 0-12 months - 12
To view this printable you need Adobe Acrobat Reader. Click to download Acrobat Reader - it's free!