How Do Seasons Affect Animal Adaptations? -- Activity 4.11
Animals have different ways of adapting to seasonal change. In this lesson children will classify animals into three categories of adaptation: hibernate, migrate, and adapt.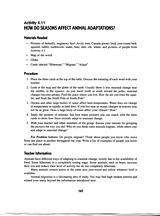 To view this printable you need Adobe Acrobat Reader. Click to download Acrobat Reader - it's free!