Finish the Picture: Flying a Kite
What kind of kite are these kids flying? Use your imagination to draw it!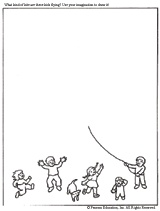 To view this printable you need Adobe Acrobat Reader. Click to download Acrobat Reader - it's free!
These images were reproduced with permission from the Dover Pictorial Archive Series, Dover Publications, Inc.