Finish the Picture: Theater
'It's opening night at the theater, and you're appearing on the great stage. Show us how you'll delight the audience.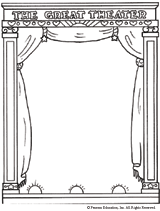 To view this printable you need Adobe Acrobat Reader. Click to download Acrobat Reader - it's free!
These images were reproduced with permission from the Dover Pictorial Archive Series, Dover Publications, Inc.