Finish the Picture: Super Person
Draw a picture of yourself as a superhero. Do you have a special costume?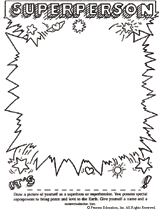 To view this printable you need Adobe Acrobat Reader. Click to download Acrobat Reader - it's free!
These images were reproduced with permission from the Dover Pictorial Archive Series, Dover Publications, Inc.