Robin or Barn Swallow Nesting Shelf
In this activity, children learn how to construct a nesting shelf for birds.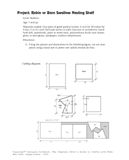 To view this printable you need Adobe Acrobat Reader. Click to download Acrobat Reader - it's free!

Excerpted from The Complete Idiot's Guide to Crafts with Kids © 1998 by Georgene Lockwood. All rights reserved including the right of reproduction in whole or in part in any form. Used by arrangement with Alpha Books, a member of Penguin Group (USA) Inc.
To order this book visit the Idiot's Guide web site or call 1-800-253-6476.