Pin the Baby on the Belly Printable Shower Game
Print off the pregnant belly template and a baby for each guest to play this fun twist on Pin the Tail on the Donkey at your next baby shower. Check out these other fun baby shower games.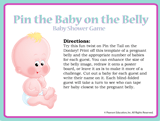 To view this printable you need Adobe Acrobat Reader. Click to download Acrobat Reader - it's free!