Back-to-School Budget Printable
Print off this free budget worksheet to organize your back-to-school savings. Download this interactive printable and save it to your desk top. Once you enter in your budget and spending amounts, the printable will automatically calculate your savings.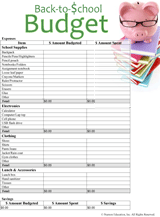 To view this printable you need Adobe Acrobat Reader. Click to download Acrobat Reader - it's free!