EPA Waste-Free School Lunch Poster
Print out the EPA's "Waste-Free Lunch" poster. On Waste-Free Lunch Days, students, parents, and school staff try to eliminate packaged lunch items, use reusable containers, and recycle as much as they can. Go green and try it at your school!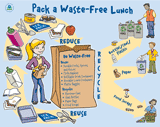 To view this printable you need Adobe Acrobat Reader. Click to download Acrobat Reader - it's free!