My Bedtime Routine Checklist
Skip the stress with bedtime and help your child get into a bedtime routine. Print and check off each activity as your child prepares for a good night's sleep. As your child grows, use this bedtime routine checklist for older kids and this morning routine checklist for busy school days.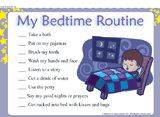 Grade Levels: 0-12 months - 1
To view this printable you need Adobe Acrobat Reader. Click to download Acrobat Reader - it's free!