The Miracle Worker -- The Challenge
Helen Keller faced a great challenge in her life. On this worksheet to go with The Miracle Worker, children write about a time in their life when they were challenged.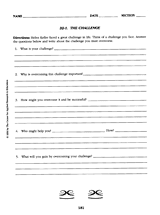 To view this printable you need Adobe Acrobat Reader. Click to download Acrobat Reader - it's free!