Sarah Boone Coloring Page
Sarah Boone patented the ironing board in 1892. In this printable, children read about this famous African-American inventor, and color in the picture. It's a great arts & crafts activity to use during Black History Month (February) or Women's History Month (March).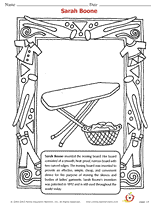 To view this printable you need Adobe Acrobat Reader. Click to download Acrobat Reader - it's free!