printables MORE
Why Do We Wash Our Hands Before Handling Food?
Use this printable to teach children about the importance of washing their hands before handling food. Children will better understand how germs are spread.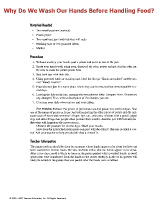 To view this printable you need Adobe Acrobat Reader. Click to download Acrobat Reader - it's free!