Printable Blank 2016 Monthly Calendar
Use this printable blank 2016 calendar and to add your own dates, special occasions, birthdays, and other events to stay organized at home and school for parents and teachers. Also use our blank 2015-2016 school-year calendar.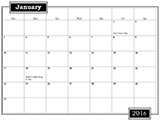 To view this printable you need Adobe Acrobat Reader. Click to download Acrobat Reader - it's free!