printables MORE
Beach Day Coloring Page
Have some sunny outdoor fun with this beach-themed coloring page.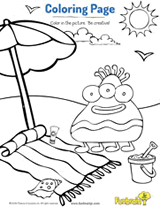 Grade Levels: 2 years - K
To view this printable you need Adobe Acrobat Reader. Click to download Acrobat Reader - it's free!

Visit www.funbrainjr.com for more printables like this one, plus free online games and stories for preschoolers and kindergartners.