Seasons Greetings Around the World
Teach your child to say Merry Christmas in Swahili, French, Eskimo, and other languages from around the world. This printable is a great starting point for teaching children about the ways in which people of other countries celebrate Christmas.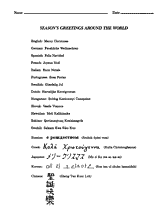 To view this printable you need Adobe Acrobat Reader. Click to download Acrobat Reader - it's free!