printables MORE
If You Take a Mouse to the Movies -- Build a Snowman
Make a snowman of your own with this printable. Where will you display it?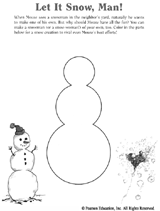 Grade Levels: 0-12 months - 3
To view this printable you need Adobe Acrobat Reader. Click to download Acrobat Reader - it's free!

Adapted from If You Take a Mouse to the Movies, by Laura Numeroff. Reprinted by permission of HarperCollins Publishers.