Complete the Set: Dolls, Goats, and More
How many are missing? Complete the set with the correct number of items by drawing the missing ones.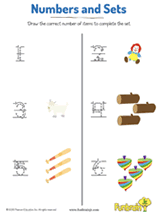 To view this printable you need Adobe Acrobat Reader. Click to download Acrobat Reader - it's free!

Visit www.funbrainjr.com for more printables like this one, plus free online games and stories for preschoolers and kindergartners.