printables MORE
Subtract the Objects 2
Let's subtract! Count the number of items in each set. Subtract the second set from the first and write the answer on the blank line.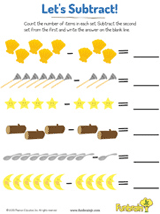 To view this printable you need Adobe Acrobat Reader. Click to download Acrobat Reader - it's free!

Visit www.funbrainjr.com for more printables like this one, plus free online games and stories for preschoolers and kindergartners.