Monster Mash
Keep the kids busy and entertained with the monstrous word puzzles in this printable.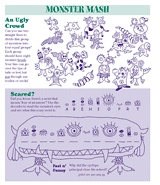 Grade Levels: 0-12 months - 5
To view this printable you need Adobe Acrobat Reader. Click to download Acrobat Reader - it's free!

From The Everything Kids' Puzzle Book Copyright © 2000, F+W Publications, Inc. Used by permission of Adams Media, an F+W Publications Company. All rights reserved.
To order this book go to Amazon.