Eyewitness Dinosaur Printables
This printable set supports Eyewitness: Dinosaur, from the DK Eyewitness Series. It contains two scavenger hunts (one for the book and one for the video), a wordsearch with relevant vocabulary, and a dinosaur-related creative writing assignment.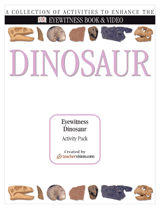 To view this printable you need Adobe Acrobat Reader. Click to download Acrobat Reader - it's free!