Delivery Truck Doodle Page
Finish the picture! Break out the crayons or pencils and complete this drawing of a sturdy delivery truck.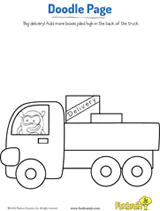 To view this printable you need Adobe Acrobat Reader. Click to download Acrobat Reader - it's free!

Visit www.funbrainjr.com for more printables like this one, plus free online games and stories for preschoolers and kindergartners.