printables MORE
A Room-by-Room Guide to Greening Your Home
This Room-by-Room Guide to Greening Your Home is packed with tips on preparing each room in your house to be more environmentally friendly.
Due to the graphics in this PDF, it may take several minutes to download the file.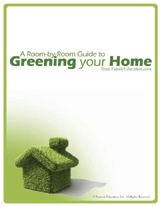 Grade Levels: 0-12 months - 12
To view this printable you need Adobe Acrobat Reader. Click to download Acrobat Reader - it's free!