Changes in the Earth's Surface: Family Activity
With this family activity, children and parents review vocabulary words about the changes in the Earth's surface and complete a home project to show how wind causes erosion.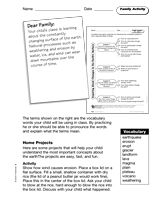 To view this printable you need Adobe Acrobat Reader. Click to download Acrobat Reader - it's free!