Big Numbers in Our School
Give your child practice multiplying and estimating large numbers with this math activity. Children will count classroom items and estimate how many of these items are in the entire school.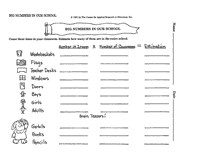 To view this printable you need Adobe Acrobat Reader. Click to download Acrobat Reader - it's free!