The Apple Cookbooklet: Sweet & Savory Apple Recipes
Have an abundance of apples? Print out this little cookbook of 10 sweet and savory apple desserts and main dishes to make and enjoy with your kids.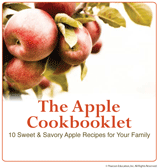 Grade Levels: Pregnancy - 12
To view this printable you need Adobe Acrobat Reader. Click to download Acrobat Reader - it's free!