Fifth Grade Summer Learning Guide: Get Ready for Back-to-School
Print this guide of fun and educational activities to help prepare children during the summer for the fifth-grade school year. The packet includes practice with analogies, suggestions for summer reading, a "test" for becoming an American citizen, lessons on the U.S. Constitution, a worksheet comparing fractions, decimals, and percents, and more! See our summer learning guides for sixth grade and other grades.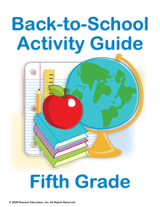 To view this printable you need Adobe Acrobat Reader. Click to download Acrobat Reader - it's free!