First Grade Summer Learning Guide: Get Ready for Back-to-School
Print off this guide of fun and educational activities that will help prepare your child over the summer for the first-grade school year. Included you'll find book suggestions for improving reading skills, grammar worksheets, lessons for community involvement, counting and measurement activities, and more! See our summer learning guides for second grade and other grades.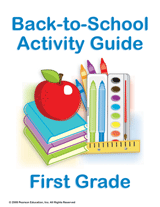 To view this printable you need Adobe Acrobat Reader. Click to download Acrobat Reader - it's free!