50 Stars and 13 Stripes
Children will learn the meaning of the colors on the USA flag. This printable will be useful when celebrating U.S. and military history, like Independence Day, Memorial Day, Veterans Day, and Flag Day.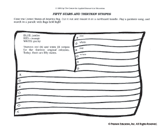 To view this printable you need Adobe Acrobat Reader. Click to download Acrobat Reader - it's free!