Parent/ Child Online Agreement
Concerned about your child's Internet safety and how much time she spends online? Print out this form as a contract between you and your child to help protect her from Internet predators, cyberbullying, and too much screen time. Also, check out these apps that can help you monitor your child's online safety and set healthy time limits.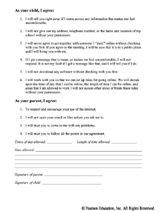 To view this printable you need Adobe Acrobat Reader. Click to download Acrobat Reader - it's free!