Your Child's Sensory Portrait: A Checklist
Use this checklist to determine your child's sensitivities and to discover any triggers and patterns underlying worrisome behaviors.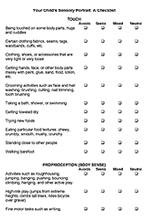 Grade Levels: 0-12 months - 3
To view this printable you need Adobe Acrobat Reader. Click to download Acrobat Reader - it's free!

From Raising a Sensory Smart Child by Lindsey Biel, M.A., OTR/L and Nancy Peske. Copyright © 2005. Used by arrangement with Penguin Group (USA) Inc.
If you'd like to buy this book, click here or on the book cover.