printables MORE
The Bad Attitude Intelligence Test
See how much you know about your children's bad attitudes, and find out how you can change them.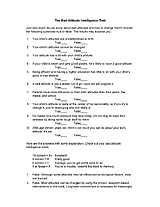 Grade Levels: 0-12 months - 3
To view this printable you need Adobe Acrobat Reader. Click to download Acrobat Reader - it's free!

From Don't Give Me That Attitude by Michele Borba, Ed.D. Copyright © 2004 by Michele Borba. All rights reserved. Used by arrangement with John Wiley & Sons, Inc.
Buy the book at www.amazon.com.