Sample Behavior/Symptom Checklist
Check the boxes on this worksheet that best describe your child, then compare the results with other children of the same gender and age.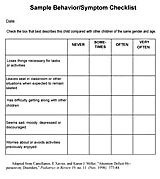 To view this printable you need Adobe Acrobat Reader. Click to download Acrobat Reader - it's free!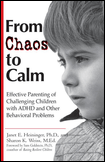 From From Chaos to Calm: Effective Parenting of Challenging Children with ADHD and Other Behavioral Problems by Janet E. Heininger and Sharon K. Weiss. Copyright � 2001. Used by arrangement with Penguin Group (USA) Inc.
If you'd like to buy this book, click here or on the book cover. Get a 15% discount with the coupon code FENPARENT.