What Are Your Button Pushers?
Use this worksheet to learn what misbehaviors make you angry, and find out how to deal with each button pusher.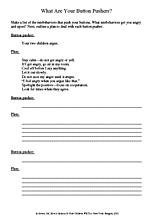 Grade Levels: 0-12 months - 4
To view this printable you need Adobe Acrobat Reader. Click to download Acrobat Reader - it's free!

From How to Behave So Your Children Will, Too!. Copyright � Sal Severe, 2000. Used by arrangement with Viking Penguin, a member of Penguin Group (USA) Inc.
If you'd like to buy this book,
click here
or on the book cover. Get a
15% discount
with the coupon code
FENPARENT
.