The Good Stress Challenge Audit
Take this survey to determine if your child could benefit from a good stress challenge.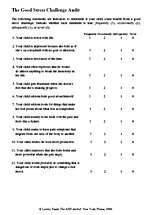 Grade Levels: 0-12 months - 4
To view this printable you need Adobe Acrobat Reader. Click to download Acrobat Reader - it's free!

From The ADD Answer: How to Help Your Child Now by Frank Lawlis, M.D. Copyright © 2005. Used by arrangement with Penguin Group (USA) Inc.
If you'd like to buy this book, click here or on the book cover. Get a 15% discount with the coupon code FENPARENT.