Genealogy Research Form
Working hard on your genealogical search? Print out as many copies of the family tree research form you need in order to record your findings.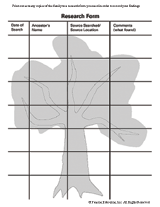 Grade Levels: 0-12 months - 12
To view this printable you need Adobe Acrobat Reader. Click to download Acrobat Reader - it's free!