Comparing Medication Options
View a list of prescription drugs and their potential side effects, benefits, and drawbacks.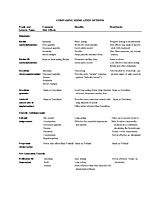 Grade Levels: 0-12 months - 12
To view this printable you need Adobe Acrobat Reader. Click to download Acrobat Reader - it's free!

From The Attention Deficit Answer Book: The Best Medications and Parenting Strategies for Your Child by Alan Wachtel, M.D. Copyright © 1998. Used by arrangement with Penguin Group (USA) Inc.
If you'd like to buy this book, visit amazon.com or click on the book cover.