Baby's 'Daily Food and Symptom Diary
Use this chart to keep a record of your baby's food intake and any uncommon reactions.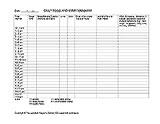 Grade Levels: 0-12 months - Pre-K
To view this printable you need Adobe Acrobat Reader. Click to download Acrobat Reader - it's free!

From Dr. Mom's Guide to Breastfeeding by Marianne R. Neifert. Copyright © 1998 by Marianne R. Neifert. Used by arrangement with Plume, a member of Penguin Group (USA) Inc.
To order this book visit Amazon.