Family Nutrition Assessment
Use this worksheet to assess your family's eating and physical activity, and see where improvement is needed.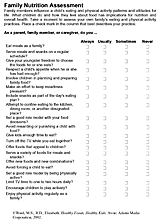 To view this printable you need Adobe Acrobat Reader. Click to download Acrobat Reader - it's free!
Copyright © 2002 by Elizabeth M. Ward. Excerpted from Healthy Foods, Healthy Kids with permission of its publisher, Adams Media Corporation.
To order this book visit Amazon.com.