Food Safety Quiz
Take this quiz to see how much you know about keeping food safe.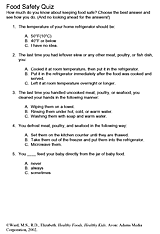 Grade Levels: 0-12 months - 12
To view this printable you need Adobe Acrobat Reader. Click to download Acrobat Reader - it's free!
Copyright © 2002 by Elizabeth M. Ward. Excerpted from Healthy Foods, Healthy Kids with permission of its publisher, Adams Media Corporation.
To order this book visit Amazon.com.