Budget Template
Organize your personal finances with this printable budget template.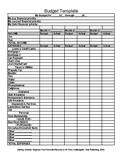 Grade Levels: 0-12 months - 12
To view this printable you need Adobe Acrobat Reader. Click to download Acrobat Reader - it's free!

Reproduced from Organize Your Personal Finances in No Time, by Debbie Stanley, by permission of Pearson Education. Copyright © 2005 by Que Publishing. Please visit Amazon to order your own copy.