In-Home Childcare Interview Checklist
This checklist will help you ask the right questions when interviewing a potential in-home childcare provider.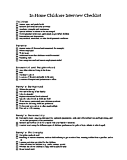 Grade Levels: 0-12 months - 4
To view this printable you need Adobe Acrobat Reader. Click to download Acrobat Reader - it's free!

Copyright © 2005 by Linda H. Connell. Excerpted from The Childcare Answer Book with permission of its publisher, Sourcebooks, Inc.
To order this book visit Amazon.com.