Are You Financially Intelligent?
Take this quiz to determine whether you are a financially intelligent parent.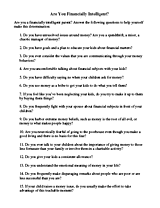 Grade Levels: 0-12 months - 12
To view this printable you need Adobe Acrobat Reader. Click to download Acrobat Reader - it's free!

From The Financially Intelligent Parent by Eileen Gallo, Ph.D. and Jon Gallo, Ph.D. Copyright © 2005 by Jon Gallo and Eileen Gallo. Used by arrangement with Penguin Group (USA) Inc.
If you'd like to buy this book, visit Amazon.