printables MORE
BMI Chart for Girls
Keep your daughter's health on track with the help of this body mass index chart.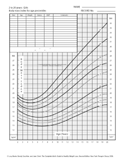 To view this printable you need Adobe Acrobat Reader. Click to download Acrobat Reader - it's free!

Excerpted from The Complete Idiot's Guide to Healthy Weight Loss © 2005 by Lucy Beale and Sandy G. Couvillon. All rights reserved including the right of reproduction in whole or in part in any form. Used by arrangement with Alpha Books, a member of Penguin Group (USA) Inc.
To order this book visit the Idiot's Guide web site or call 1-800-253-6476.