Information for Your Babysitter
Fill in this information sheet with important names, phone numbers, and addresses, and give it to your babysitter to use in case of an emergency.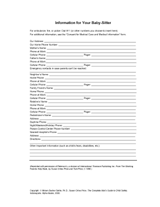 Grade Levels: 0-12 months - 6
To view this printable you need Adobe Acrobat Reader. Click to download Acrobat Reader - it's free!

Excerpted from The Complete Idiot's Guide to Child Safety © 2000 by Miriam Bacher Settle, Ph.D., and Susan Crites Price. All rights reserved including the right of reproduction in whole or in part in any form. Used by arrangement with Alpha Books, a member of Penguin Group (USA) Inc.
To order this book visit Amazon's web site or call 1-800-253-6476.