Take Our Daughters to Work Day - Part 2
Now that your daughter is at work, what does she think? Have her answer these questions before, during, and after to assess her experience.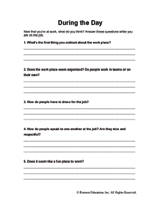 To view this printable you need Adobe Acrobat Reader. Click to download Acrobat Reader - it's free!