printables MORE
How Much Do You Know About Taking the SAT? - Answers
Answer Sheet for How Much Do You Know About Taking the SAT?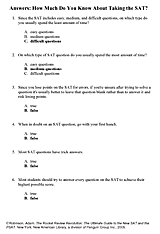 To view this printable you need Adobe Acrobat Reader. Click to download Acrobat Reader - it's free!

From The RocketReview Revolution: The Ultimate Guide to the New SAT and the PSAT by Adam Robinson. Copyright © 2005. Used by arrangement with Penguin Group (USA) Inc.
If you'd like to buy this book, click here.