Ex-Presidents Send Letters of Regret
Children can read letters written by John Adams and Thomas Jefferson, which inform two American cities that the men will not be able to attend their Fourth of July ceremonies.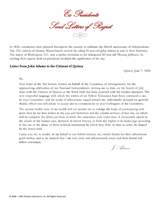 To view this printable you need Adobe Acrobat Reader. Click to download Acrobat Reader - it's free!