Wallet-Sized Winter Seasonal Produce List
Print, cut out, and take along this handy wallet-sized shopping list to help you remember the freshest vegetables and fruits you can buy during the winter months of December, January, and February. Buying fresh, organic produce is good for you and for the environment. Click here for spring, summer, and autumn lists.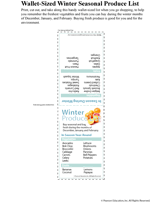 Grade Levels: 0-12 months - 12
To view this printable you need Adobe Acrobat Reader. Click to download Acrobat Reader - it's free!