Trimester-by-Trimester Travel Guide
With extra planning, you can travel during most of your pregnancy (except to areas affected by Zika virus). Print out a trimester-by-trimester guide to learn safe travel guidelines when you're in weeks 1-12, 13-25, and 26-40 of pregnancy.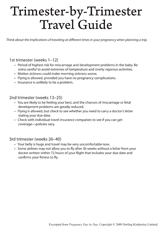 To view this printable you need Adobe Acrobat Reader. Click to download Acrobat Reader - it's free!
Excerpted from Pregnancy Day by Day.
Copyright © 2008 Dorling Kindersley Limited.
Buy this book now!